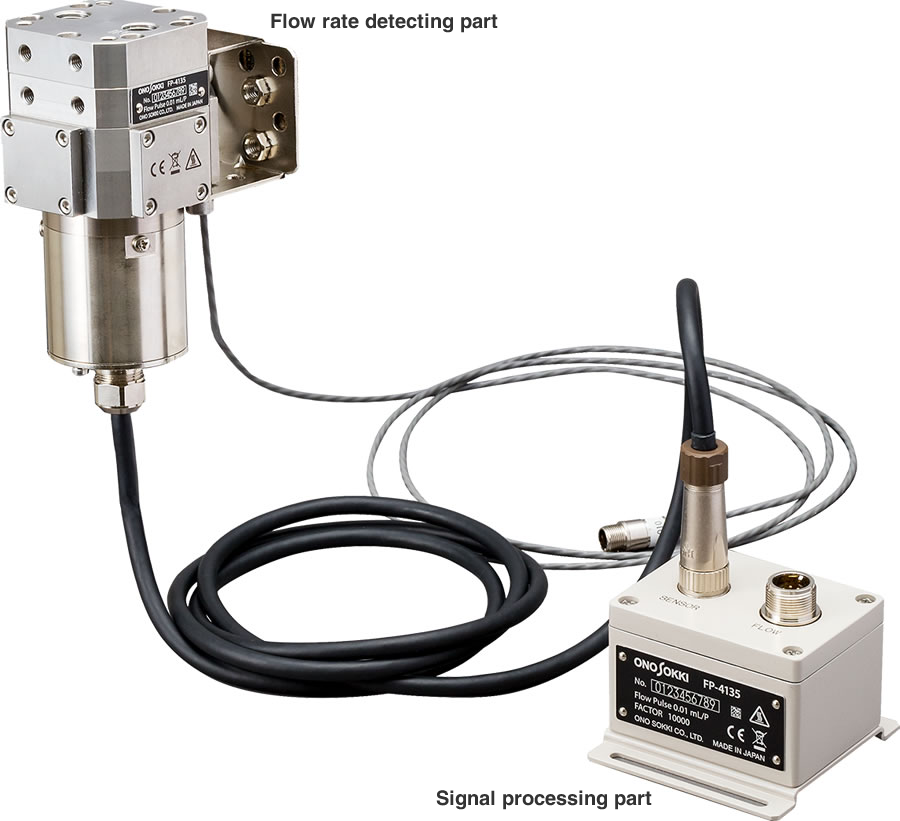 The FP-4135 On-Board Volumetric Flow Detector is the high-precision positive displacement flow detector to measure the fuel flow rate of liquids such as gasoline, light oil and kerosene combined with the Ono Sokki DF-2200 On-Board Flow Meter or the FM series Digital Flow meter.
Because the flow rate range is as wide as 0.1 to 200 L/h (measurement range ratio 2000 : 1 ), it can measure from very low flow rate in an idling state to large amount of flow rate in a high-load state when a fuel with a low heating value such as alcohol is used.
Also, since the flow detecting part is compact and its operating temperature range is -30 to +100°C, it can be installed inside an engine room to measure the actual driving fuel efficiency.

---
Features
1. Improved vibration resistance & environment resistance
The detection part and the signal processing part are separated in consideration of temperature changes in the engine room and use in environmental tests. It supports vibration of about 3 G and environmental temperature of -30 °C to +100 °C, and has excellent vibration resistance and environmental resistance.
Vibration test
Temperature test
: 27.3 m/s2
: -30 °C to +100 °C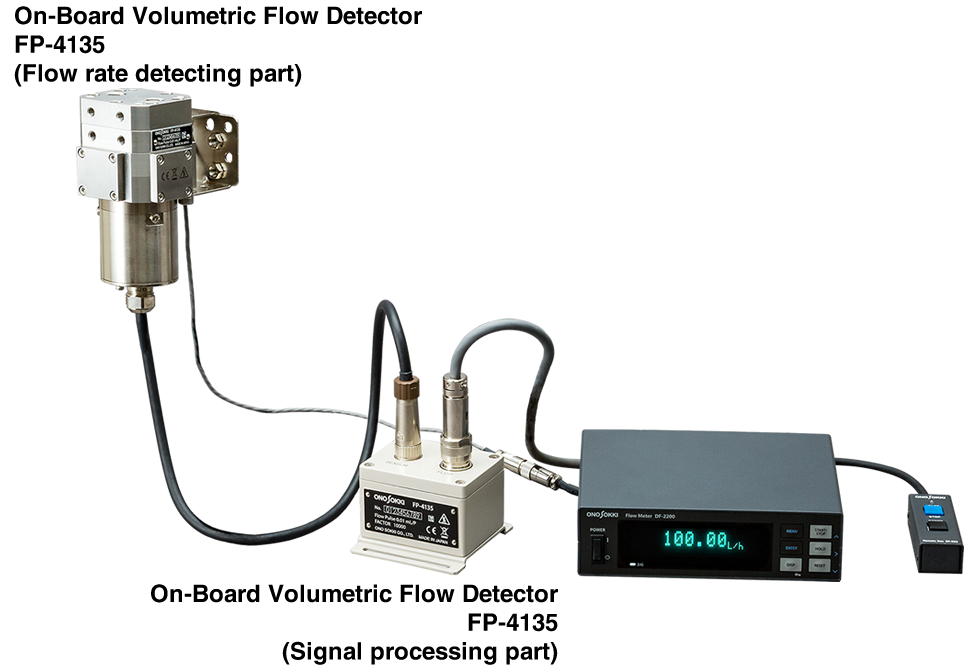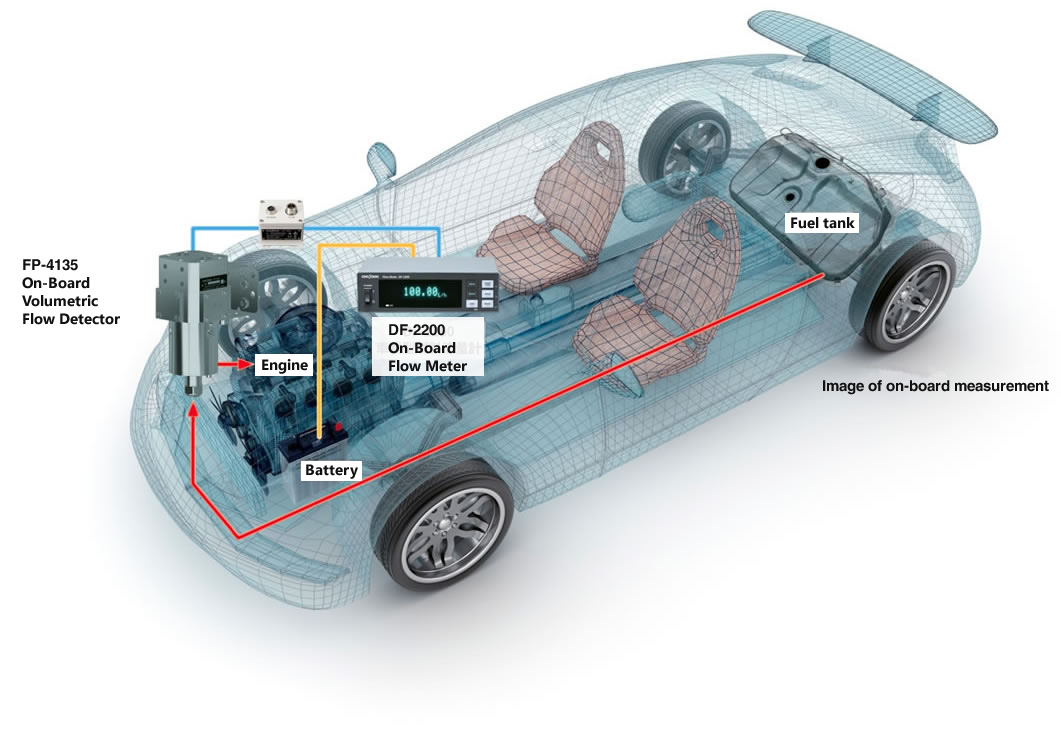 2. Ultra compact filter, built-in temperature sensor
Downsized filter achieves 70% reduction in volume. (Compared to the FP-2140H)
An ultra compact filter is equipped as standard inside to protect the detector from impurities contained in the fuel.
The filter is removable and easy to maintaine every test. A built-in temperature sensor is also equpped as standard.

Temperature measurement range
Temperature accuracy
: -30 °C to +100 °C
: Class A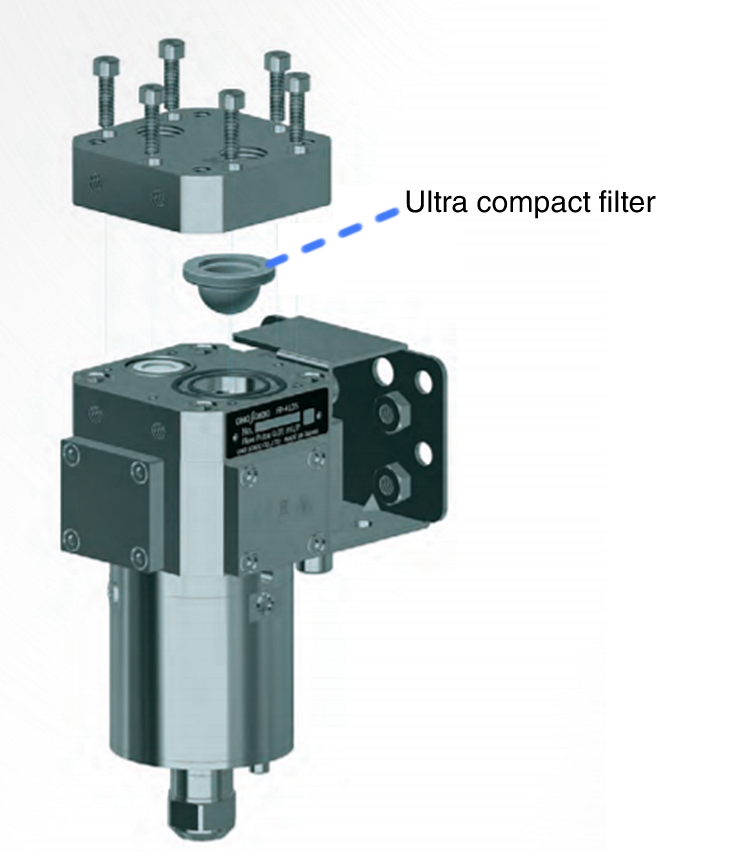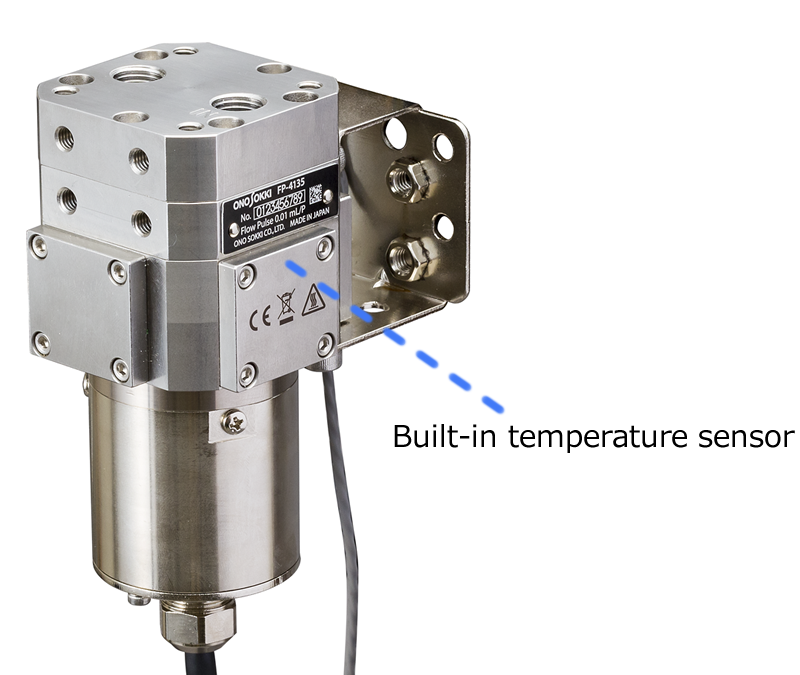 3. One-touch connection with SAE joint (option)
By attaching a joint to actual vehicle (option) to the top of the detector, you can easily connect to the fuel hose of the vehicle. It prevents fuel from leaking in the engine compartment.
SAE J2044 joint
Screwed type joint (Rc 1/4)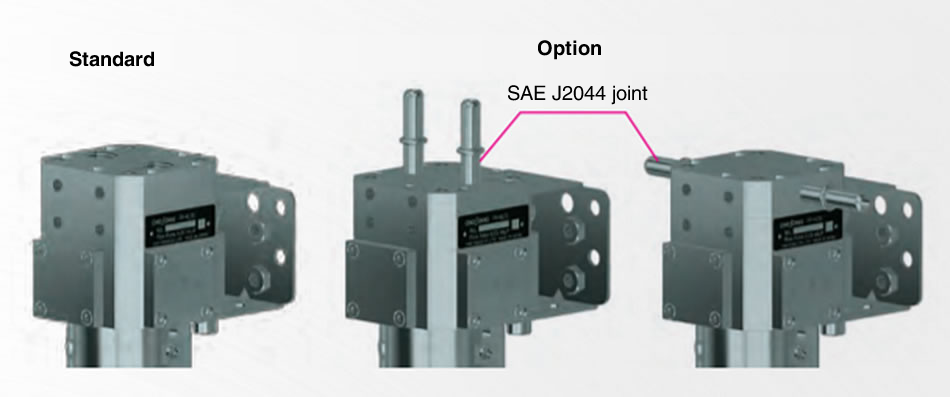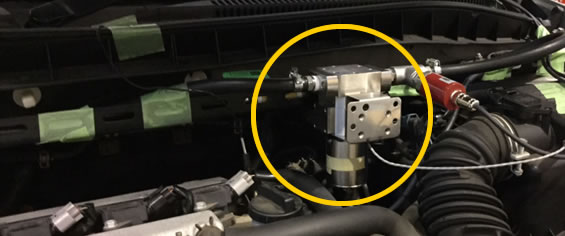 4. Wide measurement rane, low pressure loss, supporting alcohol as standard
Measurement range: 0.1 to 200 L/h

Low pressure loss
Measurable liquid
: Adapting a magnetic encoder enables to reduce the weight of detector
: Alcohol as standard, a wet part with excellent chemical resistance used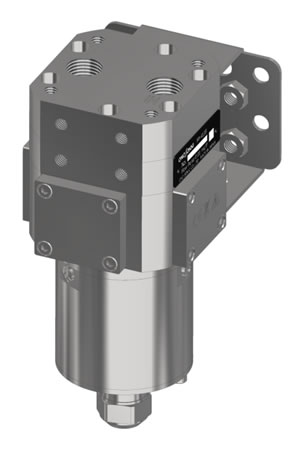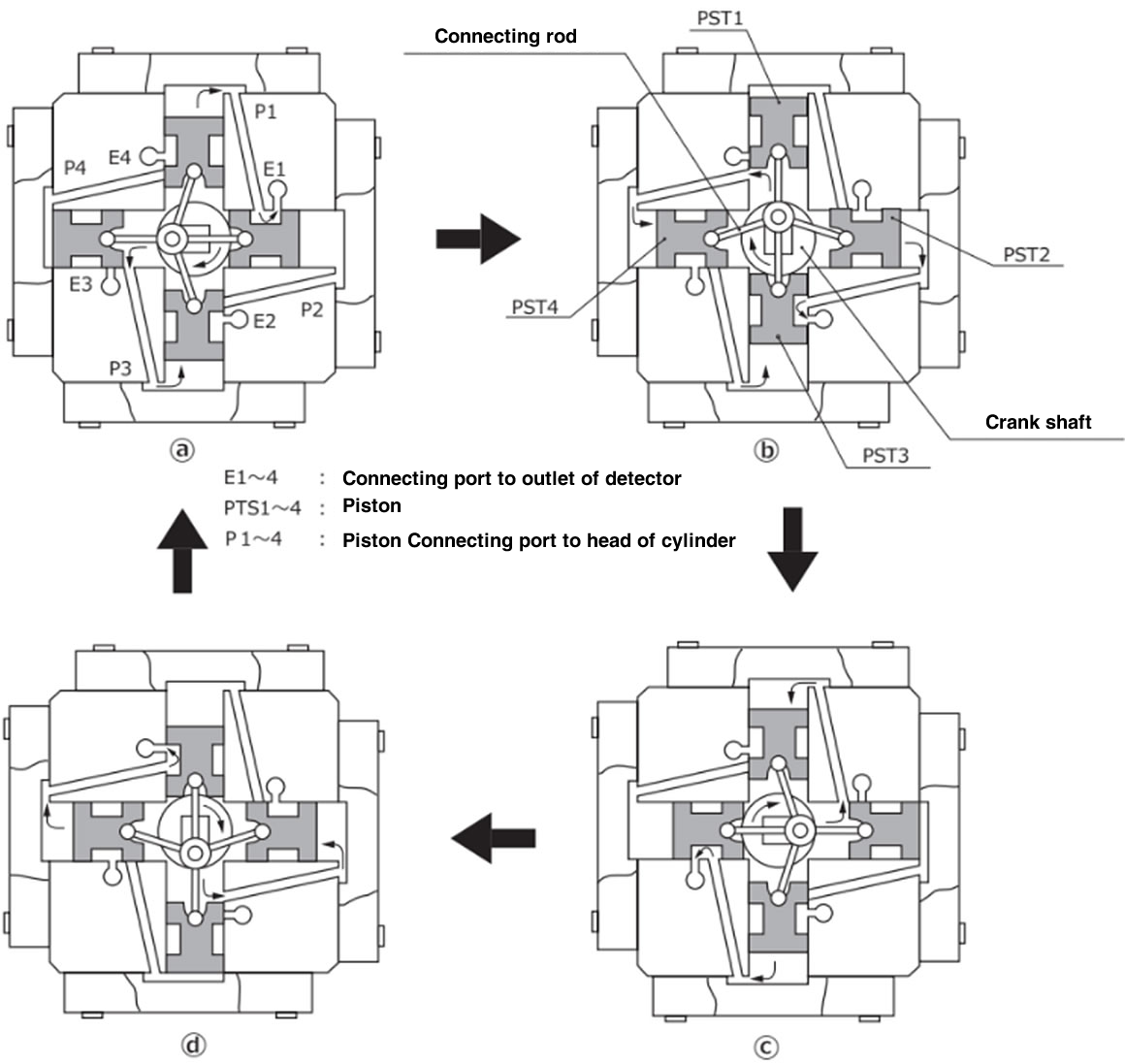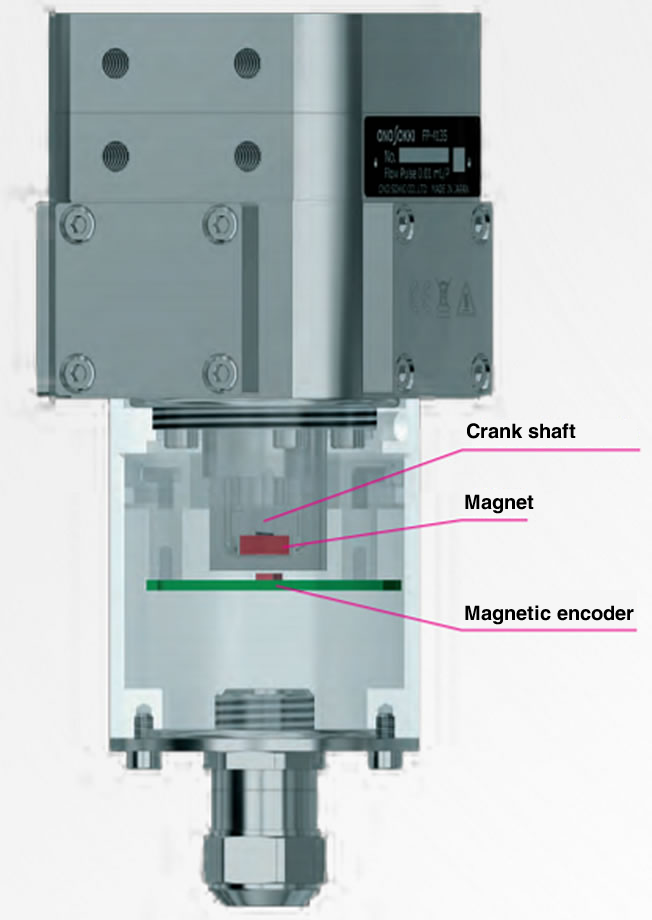 System configuration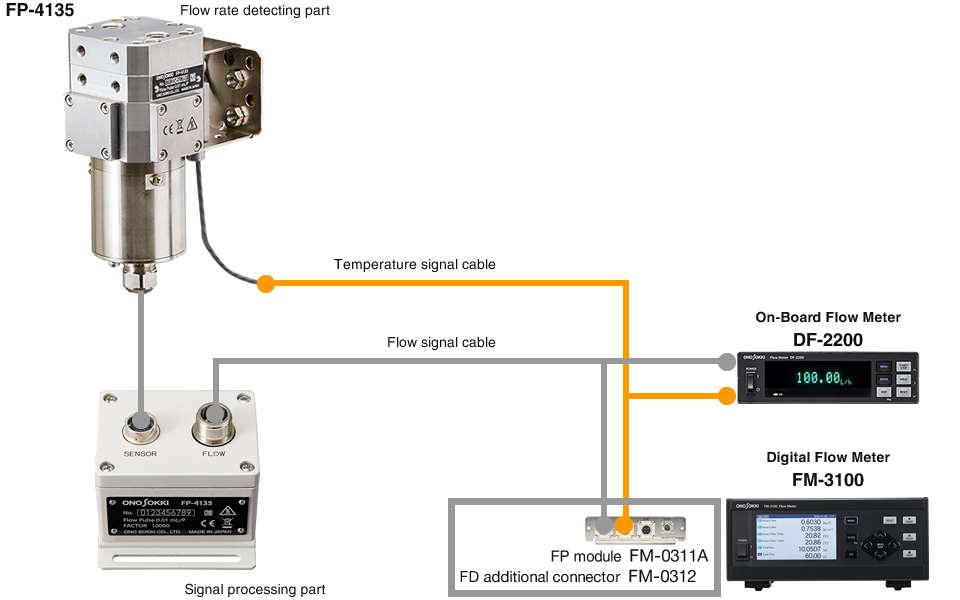 Case study
Repeated measurement of section fuel consumption during actual driving
Taking advantage of the compact and lightweight speedometer, the LC-8300A, mount it on a motorcycle to measure mean velocity, fuel consumption, and fuel efficiency every 10 m from the start. From the results, the fuel efficiency will be evaluated.
Specification
Measurable liquid
Gasoline, light oil, kerosene, class-A heavy oil, engine oil, petroleum-based general hydraulic oil, methanol, ethanol, mixture of alcohol and gasoline, and brake oil
*Please note that the detector might not be used in the depositing condition.
*Alcohol is measurable as standard.
Measurement range
Flow rate
0.1 to 200 L/h
Temperature
-30 to 100 °C
Accuracy
Flow rate
within ± 0.2 % of reading(measurement condition: 20 °C, 50% RH, Cleansol HS)
Temperature
Class A
Pressure loss
4 kPa or less at 60 L/h (gasoline)
Operating temperature range
Flow detecting part:-30 to 100 °C (environment temperature, liquid temperature, with no condensation)
Signal processing part:-30 to 70 °C (environment temperature)
Inlet/Outlet port
Rc1/4
Operating maximum pressure
8 Mpa
Vibration resistance (conducted)
Acceleration rms value: 27.3 m/s2
10 to 1000 Hz random vibration
1 hour for each direction of each 3 axis
Weight
Flow detecting part: approx.2.0 kg
Signal processing part: approx.0.4 kg
Power source
Power is supplied from the DF-2200 On-Board Flow Meter or the FM Series Digital Flow Meter
Accessory
Instruction manual
Applicable cable
Option: FP-0015(5m), FP-0016(10m), FP-0017(20m)
Applicable detector/flow meter
DF-2200 On-Board Flow Meter
FM-3100 Digital Flow Meter+ FP-0311 measurement module for FP series
FM-2500A Digital Flow Meter + DF-0400A measurement module for FP series
FM-1500 Digital Flow Meter + DF-0400A measurement module for FP series
*When using it on an engine bench, it is possible to extend the maintenance interval for filter cleaning by installing an external filter on the primary side of the flow meter.
(For filter, please contact us to quote.)
Option
Model name
Product name
Remarks
FP-0015
Flow signal cabsignal cable, 5 m
Connection cable for FM/DF series
FP-0016
Flow signal cable, 10 m
FP-0017
Flow signal cable, 20 m
FP-0025
Temperature signal cable, 5 m
Connection cable for FM/DF series
FP-0026
Temperature signal cable, 10 m
FP-0027
Temperature signal cable, 20 m
FP-0035
Pressure signal cable, 5 m
Connection cable for FM/DF series
FP-0036
Pressure signal cable, 10 m
FP-0037
Pressure signal cable, 20 m
FP-0411
For FP-4135: Inlet/Outlet filter set
Inlet/Outlet filter and O-ring set
FP-0412
for FP-4135: O-ring set for filter maintenance
O-ring set for filter maintenance
FP-0413
For FP-4135: O-ring set for filter maintenance
O-ring set for filter maintenance (perfluoro type)
FP-0414
For FP-4135: Temperature sensor
Standard, class A
FP-0415
For FP-4135: Additional pressure sensor set
Pressure measurement: 0 to 980 kPa, F.S.±0.5 %
FP-0416
For FP-4135: Pressure sensor
Pressure measurement: 0 to 980 kPa, F.S.±0.5 %
FP-0417
For FP-4135: Top cover block (side port)
Inlet/outlet Rc1/4 port (side)
FP-0418
For FP-4135: Front mounting fixture 1
Front mounting fixture
FP-0419
For FP-4135: Rear mounting fixture 2
Rear mounting fixture 2 (not suitable for on-board)
FP-0420
For FP-4135: Mounting fixture for signal processing part (M6)
MFor M6 screw hole
FP-0421
For FP-4135: Φ6 mmSAE (side) block
Φ6.3 Max. operating pressure 500 kPa
FP-0422
For FP-4135: Φ8 mmSAE (side) block
Φ8 Max. operating pressure 500 kPa
FP-0423
For FP-4135: Φ6 mmSAE (top) block
Φ6.3 Max. operating pressure 500 kPa
FP-0424
For FP-4135: Φ8 mmSAE (top) block
Φ8 Max. operating pressure 500 kPa
Last update:2021/12/27