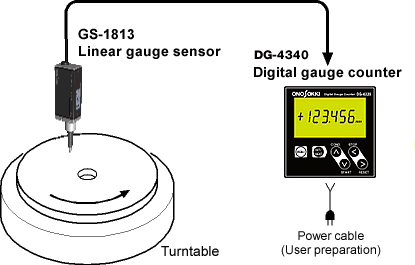 This example shows how to test surface asperity or skew of flat components such as disc brake.

Set an object under measurement on the turntable and reset the value of sensor. Turn the table one rotation after the peak-hold function is set ON at DG-4340 and signal of GS-1813 inputs DG-4340. The DG-4340 with GS-1813 can measure the maximum value of surface vibration for its one rotation and make OK/NG decision.

The DG-4340 digital gauge counter can display the measurement result visually. When the measured value to the setting value is either "Lower" or "Upper", the backlight of LCD changes into red color.

When transverse force is applied to linear gauge sensor, we recommend an indirect measurement, using jig etc. The indirect measurement prevents a sensor from excessive load. However, please take notice that sensor might cause less accuracy with an indirect measurement.