Drive-train test system:Transmission transient test system
Performance·durability system
Overview
This system is suitable for performance and durability test of lock-up clutch, connection damper, transmission.
Simulation test of an engine can be executed by modeling a real engine in combination with measurement/control panel and peripheral devices (clutch actuator, shift actuator, torque meter). Drive motor (Dynamo) instead of an engine is connected to a test transmission. Torque fluctuation waveform depending on the requirement can be input to the test transmission. Models (explosive combustion model, sine waveform model, and optional waveform model) are made with MATLAB® / Simulink® .
There is no need of fuel and exhaust emission treatment equipment. Absorbing motor (dynamo) is regarded as tire wheels and various running load can be reproduced.
Test examples
Starting test: sudden start, slope start, low friction test road start etc.
Running test: shift change, high load, high speed test etc.

Various tests including slip-grip, derailing can be performed in combination of test patterns.

---
Measurement and control board
FAMS-R5:Flexible Automatic Measuring System-Release 5
Flexible Automatic Measuring System-Release 5 provides a variety of testing systems to suit advanced tests flexibly such as EV/HEV test by utilizing the simulation, measurement technologies, control technologies and know-how that have cultivated through FAMS-8000.

·Flexibly supports EV/HEV tests
·Control unit and measurement unit can be located separately.
·Direct sensor input to a measurement unit without convertor
·In-house production of model calculation unit allows easy maintenance and constructive system
-FAMS High-Speed Link-
By connecting 2.5 Gbps cable, data sharing and synchronism are enabled by using shared-memory.

-FAMS MCU (Model-based Control Unit)-
Control model with MATLAB®/Simulink® can be executed in real time.
Breaking the functions down into more manageable enables high speed processing.
※FAMS-R5:Flexible Automatic Measuning System - Release5
※FAMS(Flexible Automatic Measuring System)is a trademark of ONO SOKKI.
---
This is application software to support efficiency improvement in the increasingly complex vehicle bench tests. This software describes test flows in flowchart and therefore makes test customization easier.

It is so flexible and expandable application software that it enables advanced automatic driving, such as controlling external devices as well as describing a driving pattern.
*FAMS-R5:Flexible Automatic Measuring System-Release 5
*FAMS (Flexible Automatic Measuring System-Release 5) is a trademark of Ono Sokki.
---
Peripherals
Robot controller for bench
Driving operations of both manual transmission (MT) and automatic transmission (AT) are supported with a shift change controller for bench test.
Shift position can be specified with an automatic gear table corresponding to the real car speed in manual transmission. Working together with throttle, clutch and shift actuator, shift position can be changed even while driving.
In automatic transmission, complicated shift pattern operation including sports shift is possible in response to a gated shift patterns.
Robot controller system
Example of a shift pattern
MT shift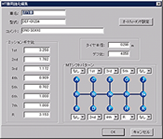 AT shift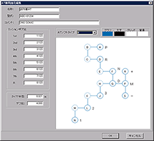 Change actuator
Clutch actuator
Shift actuator

---
Torque Meter
High-stiffness Torque Detector TQ-2000 series
TQ-2000 series is a torque detector with high-stiffness and high-response for measuring the torque variation of an engine or a power train applied to the shaft. Because of a very high flexural rigidity and high torsional rigidity, fluctuating torque is accurately measured. As the detector is flange type without bearing, it can be connected to a rotating shaft directly. The slim and space-saving design enables easy mounting.
---
·High flexural rigidity and high torsional rigidity  
·High accuracy at ±0.05 %/F.S 
·Easy maintenance by non-contact detection by phase difference method 
·High speed rotation measurement up to 22,000 r/min (200/500 N·m)(25,000 r/min: option) 
·Thin and compact, space-saving design 
---
Sound and Vibration Real-time Analysis System
The DS-3000 is real-time analysis system for sound and vibration. It analyzes sound and vibration from products in various industries such as vehicles, railways, home appliances or plant facilities.
"Quick reference of the required analysis screen" "easy checking of the measurement condition", such quick and easy response are one of the most important needs for on-site measurement.
The hardware at overwhelming processing speed and easy handling software of the DS-3000 series exactly satisfy the needs.
·Analysis function:FFT analysis/Real-time octave analysis/Tracking analysis(available simultaneous recording)
·Number of channels:64ch(When units connected each other)
·Frequency range:DC to 40 kHz
·Dynamic range:110 dB
·Voltage range:10 mVrms to 10 Vrms(7 ranges)