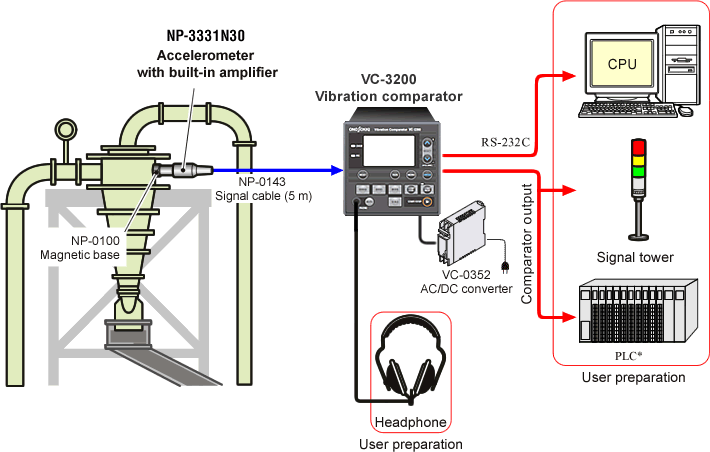 Diffuser is operated for 24 hours and used very hard. In particular, fin-breaking will lead to a serious accident. In this example, the VC-3100 monitors constantly by mounting a sensor on a measurement object (magnetic attachable/removal). It is helpful for predictive maintenance such as prevention from an accident caused for wear by detecting an abnormal vibration earlier. This application is promising on an emergency situation including unexpected fin-breaking.

The VC-3100 can be set up three frequency bands and make OK/NG determination based on rms, peak, or crest factor value on each band. Also it has effective functions such as the comparator delay time setup function and auto operation function. The comparator delay time setup function removes unwanted signal at the time of starting measurement and the automatic operation function can control the timing of determination by inputting a control signal from external device such as PLC*. Although the VC-3100 can be operated by 24VDC (22 to 26VDC) as standard, you have an alternative to use it at 100 VAC by connecting the optional AC/DC convertor VC-0352.

Connecting the VC-3100 to a PC via RS-232C interface enables storing the measured data and so on.

By connecting a pair of commercially sold headphones to the VC-3100, it is possible to make hearing check of vibrating sound. Moreover, it can be used instead of conventional stethoscopic probe. Output signals are provided for each band, enabling an observation for vibration phenomenon on each frequency band.
* PLC: Programmable Logic Controller