Ken: The other day, you mentioned one of the ability of a man to listen to voice, or some party phenomenon in a talk about harmonic overtone.
Dad: Oh, you mean cocktail party phenomenon?
Ken: Yes. But what is cocktail party?
Dad: It is a buffet-style party with drinks and snacks. In a party, it is very noisy with conversation and background music mixed. Even in such an environment, you can listen to conversation partner or what you are interested in though it is a little distance away. This is how it was named. It is a work of human acoustic sense with which you pick up a certain source of sound out of multiple overlapped sources.
Ken: You mean though it is noisy around, you can catch what you want if you attention to, don't you? In a break time when classmates are messing around, I can catch what a guy says if I hear my name guessing he's talking about me. You can listen with a help of awareness.
Dad: You can not listen if the sound volume of what you want is too small compared to noise level around, not to mention. But as you said, you can listen with care.
Ken: Is there anything relative to harmonic overtone you told the other day?
Dad: Listen carefully as this is a bit difficult. It is rare that only one factor of harmonic overtone is emphasized out of complex sound discharged from one source in nature. This means that if there is an emphasized harmonic overtone, there is another source of sound. So a man recognizes it a sound out of another source separately.
Ken: Then, can a man tell there are ten kinds of source of sound when ten classmates are talking?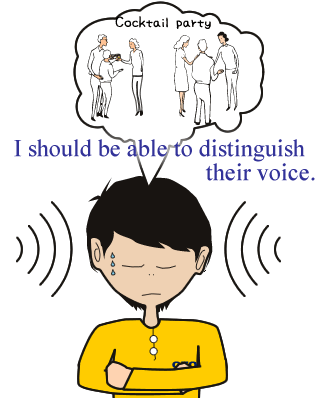 Dad: I doubt it in such a case with many people.
It has been found that distinguishing sound by each source of sound is processed in a brain which controls acoustic sense connected to inner ear through auditory nerve.
Ken: Inner ear has a function to analyze tone of sound, doesn't it? The innermost brain distinguishes source of sound, right?
Dad: Yes. A process to reintegrate by source of sound is named "auditory scene analysis" by a researcher named Plegman. Sounds from the same source has common characteristics not only that harmonic overtone is common but also that they start and stop ringing at the same time, the change of characteristics of direction from which frequency and sound comes occurs at the same time and its changes are very slow.
Ken: It sounds difficult. The direction of sound has something to do with it.
Dad: It is impossible to replay the direction if it is recorded with one microphone alone. So it is difficult to distinguish source of sound.
Ken: How wonderful the acoustic sense of a human being is! Is it possible to recognize source of sound by recording sound and analyzing with computer?
Dad: Voice-recognition technology seems to have been advanced. It may not be impossible for a computer to distinguish sounds ringing at the same time if an ability of human awareness is engineered for application. What made a man obtain this kind of ability is a function which vertebrate animals have developed to survive running away from bigger animals and hunting smaller ones.